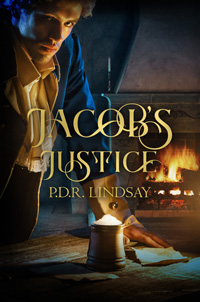 More readers for Jacob. the promotion has worked. Yet more reveiws arriving. Good, it's those few words which influence other readers. Thank you those new reviewers. Several star reviews without a written review have accrued as well.
'Jacob's Justice' by p.d.r.lindsay
A rollicking Roundheads and Cavaliers adventure.
It's 1642, and as far as Jacob Emerick is concerned the whole country's gone mad. Bigots tearing it apart. Blooming Politics & Religion, setting the King & Parliament at loggerheads. Thank goodness Jacob's got more sense, he knows, as the family legal expert, that it's up to him to save the family merchant shipping empire from the Puritans who want the Emerick ships kept out of the King's hands. Of course the King wants the ships too and will reward anyone who gets them for him. Jacob knows that if their loan is called in they'll lose the ships and their money. He has to prevent it, keep the ships out of the way of either party, and his head out of a noose for the King's people play very rough, murder is their game.
Editor's comments
As I noted on reading the first version of your novel, you write very fluently and competently. I had no trouble at all reading on, indeed was eager to find out what happened – always the sign of an absorbing story.

What I particularly like about the book is that it stands alone, but offers the possibility that it might lead to a sequel – or more! Editors aren't usually too keen on projected series, but crime books using the same detective in a run of books, whether contemporary or historical, have always been popular. And CJ Sansom's series of sixteenth century thrillers feature the same hero throughout and have done extremely well.

Jacob is an engaging hero who grows in stature as the book progresses and he learns to think on his feet. I suspect many female readers will enjoy the prospect of a young man proving himself in troubled times. Unfolding the story through Jacob's eyes also adds more of an element of suspense to the story as we, the readers, discover things and puzzle as to their meaning at the same time as Jacob rather than having knowledge that he doesn't possess.

Hilary Johnson's Assessment Agency
Three Cheers for StoryOrigin where the website has introduced male readers to Jacob. He is proving popular.
Review extracts
This is an historical fiction mystery set in the period of time leading up to the English Civil War, and told from the perspective of the ordinary man, a point of view not used enough in historical fiction. I particularly liked that the language is true to the time period in England, and it is used in a natural way so characters sound right for the time. The characters develop as the story is told, but it is Jacob's character that undergoes the most change, and in such a way you feel a part of his growing.
AND
Jacob Emerick is the lawyer for his merchant family. He's young, cocksure, and not particularly likable, but as he travels through this adventure that connects personal tragedy with the political turmoil of 1642, young Jacob matures and manages to endears himself to the reader.

Any reader of historical fiction will enjoy the detailed background to this novel and will find herself immersed in the time period. The political situation is made clear, but also the reader is given a thorough and most enjoyable trip into the lines of ordinary people.
At Goodreads Jacob's Justice now has 5 star reviews!